Photonics Research in Erlangen
Today, there are about 90 groups and principal investigators in Erlangen whose research focus is connected to photonics and optical technologies. With about two thirds of that, Friedrich-Alexander-Universität Erlangen-Nürnberg accounts for the largest share, consisting of scientists from the Faculty of Sciences (NatFak), the Faculty of Engineering (TechFak) and the Faculty of Medicine (MedFak). Current activities at FAU span from fundamental research on photonics and optical technologies to cutting-edge applications in both the academic and the industrial context. Scientific questions are addressed by sophisticated experimental setups and measurement techniques as well as by state-of-the-art data processing algorithms, theoretical calculations and simulations.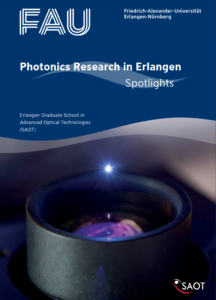 In addition, research conducted at the Max Planck Institute for the Science of Light (MPL) and the Max-Planck-Zentrum für Physik und Medizin (MPZPM) includes biological optomechanics, photonic crystal fibers, nano-optics, optics and information as well as theory of quantum optics. These activities are complemented by research groups from the Fraunhofer Institute for Integrated Circuits (IIS) as well as the Fraunhofer Institute for Integrated Systems and Device Technology (IISB).
This diverse research on photonics in Erlangen can be classified into four main fields:
An assignment of the research groups to the four main fields is shown in the scheme below. As can be seen, several interdisciplinary groups show overlap into multiple fields to a certain extent. Detailed information on all involved investigators and their main topics is available at the respective field page, where selected ­research topics and scientists as well as latest publications of doctoral canditates from Erlangen are spotlighted for each main field.